The Front-Load washing machine was a dream come true, or so I thought…A front-load machine was one of the "upgrades" when we moved into our new home. I remember being so excited but then a certain smell showed up.
I always run an empty wash with baking soda, vinegar, and tea tree oil at the end of a long laundry day as a thank you and somewhat maintenance for my washer "The Red Beast". It didn't take long for all our clothes to get a certain smell, do you know the smell? yeah, that one. I thought I had maybe left the clothes in the washer too long and because I'm in AZ the heat just accelerated the build up of the "smell".
It wasn't until months later after much frustration and stinky clothes that I decided to look more into it and start dissembling things. I was on the brink of switching back to the top loader but decided to investigate a little.
First, did you know there is a little tube to drain left over water? There's also a filter that collects stuff prior to it going down the drain and clogging it. I would have to say these are the bigger contributors and sources of stench in it. After I found this out I thought I was good to go, I added an extra step to my laundry days, because you know we all need extra steps when it comes to laundry. The extra step was to drain the pipe. Later I found some other sources of stench and I want to save you money in replacing stinky clothes along with the head space trying to figure out why your clothes stink.
I recommend this routine on a bi-weekly basis to prevent build up if you use liquid laundry detergent. Why? do you ask…Most liquid laundry detergents contain animal fat and that residue and fat stays on your washer, mold and mildew grow on it and cause all the smell and grossness PROBLEM SOLVED! I am definitely switching to powder detergent!!!
Here come the gross pics, I mean who would have thought that a machine built to clean could get so gross.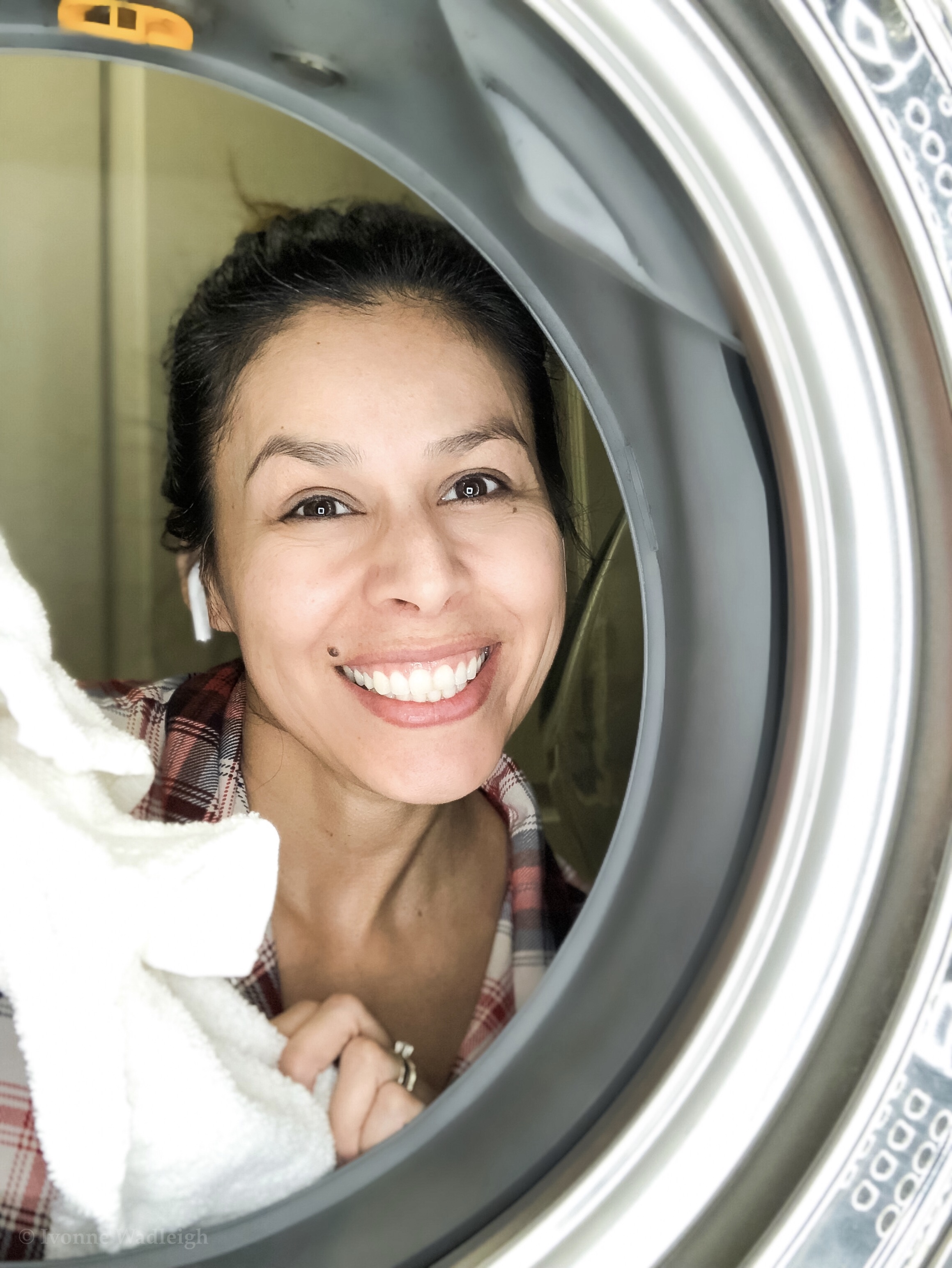 Start by draining the machine. In the front you will find a small door that has a small draining hose and filter next to each other. I used a glass bottle to collect the water that drained from it.
After draining it, I took out the filter and cleaned it. It smelled like a forgotten fish tank.
Click on the image above to see more. Once drained and the filter cleaned, re insert it and close the drain. Here comes a little bit of elbow grease. The large rubber seal on the washer was covered in mold and some unknown "gunk" my Red Beast has been beasting without being proper cleaning so she had some build up. I used rags, a medium/hard bristle brush, vinegar and baking soda. I sprinkled some powder soda and sprayed vinegar onto it. After it foamed I scrubbed it with the brush and wiped it down. There is a tight area between the rubber gasket and the drum, make sure you get in there, this is where most of the mold was accumulated.
***Click on the image above to see more. There is also a drain area on the rubber seal. Make sure yo clean this out well. Hair, lint, small candy wrappers, and other things can get caught there allowing for water accumulation. I started with toothpicks but moved on to tweezers. I was able to grab the accumulated gunk and clean the drain. Make sure you move the rubber seal around because after I thought it was clean I still found a big clog of gunk with who knows what along with hair and lint. I would say this is the hardest part of the job.
I run a quick wash with vinegar and baking soda. The baking soda went straight into the washer and the vinegar went into the soap dispenser. This is to help get rid of funky smells, kill off any mold and mildew lingering around in your drain and areas we didn't get to clean.
If you use liquid detergent, run a quick load with powder dish soap. Liquid detergent often contains animal fats and if it's not all cleaned out the animal fat will settle causing your washer to smell bad. The powder dishwasher detergent will work just like it does in your dishwasher and clean away any grease and fats.
After this process your washer should smell great and be free from science experiments with all the mold and mildew. Not only does it look so much better but The Red Beast is ready to go. It drains so much better and with less effort so the efficiency improved. To avoid doing this job on a regular basis you can switch to a powder laundry detergent. It's a very easy switch and it will prevent you from having to clean it all the time. Also as a preventative measure I recommend keeping the door open between cycles to let it air out.
Thank you for joining me and I hope this is helpful!